When you are an art lover or an artist, all your art works are your priced possessions and you can't see them lying carelessly. Also, if not handled properly the art work may get damaged which is the last thing you want. You keep making something new and the number of art work increases but the space around you remains the same. So, the next and important thing you end up thinking about is, where and how should I display it? And how can you sell your art work if that's what you wish to do. Well, to solve that problem here, in this article we will talk about different possible ways to best display your art work. Just like how a web developer, wings at a trial and error method to find the best possible ways to produce a perfected outcome as a website, various artists can try displaying their art working through unique means. These are few ways listed down and are as follows:
Hang with some composition
When you have several paintings framed, you can make one featured wall for your paintings and hang them properly to form a balanced composition on the wall. In this way, your empty wall will convert into a focal point in the room and you don't even need wallpaper on it, a plain wall will best highlight your works.
Clothes String
It is one of the most common and easiest method to display your art. You don't need to drill your wall to hang them, nor you need framing for the artwork. All you need is a clothes String tied on wall from one end to other and hand full of clips to hang your art from the string. To add more beauty to it you can use series of light hanging on the string, and highlighting your art.
Shelf
If your art works have sculptures and small paintings, you can always install a dedicated shelf for your art. But, while doing this keep this in mind that the shelf must be fixed on the wall properly, and at a place where no other stuff blocks it or dominate it. It should be the focal element of that wall.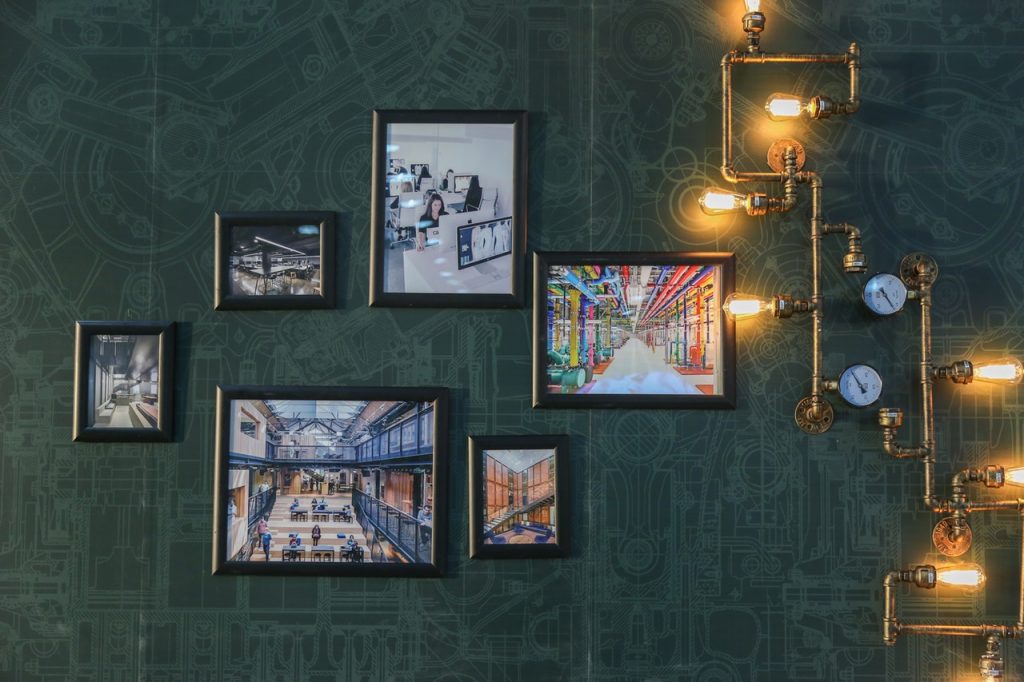 Washi Tape
When you don't want to drill your wall, you can always paste art works with washi tapes. It doesn't ruin your wall and you can keep changing the display pattern. Also, another advantage of this tape is that, these tapes come in designs which enhances the display.
Floral Wreaths
Flower wreaths are good to go with any art piece, be it a sculpture, a painting hung on wall or kept on shelf, it is an add on element. And if your art piece contains similar design then you can make many compositions, and combinations to compliment your hard work and hours spent on your piece of art.
Art Boards and Clipboards
Art Boards and clipboards are the basic stationary stuff which anyone will have. And best thing is, you can anytime use them to display sketches, doodles, paintings etc. you just need to finish it and pin it on the board or clip it. And clipboards can be hanged easily.
Art Mobiles
This is the innovative, cheap, simple and elegant way to display your art. You just need a wooden dowel with long string attached at both the ends, and then add several strings of different size at equal distance and hang your art on it. These are just not used for kids or in primary schools, you can DIY it at your place and trust me you will not get disappointed by the display at all.
These were few ideas which anyone can pull out just in a snap. There are many more and can be created if you are a creative head. There is no limitation to creativity when there comes a will to do something better and pull out something great. And being an artist, or art lover I am sure everyone wants out of the box ideas. So, what are you waiting for? Try these easy methods to display you fantastically fabulous arts!
Online sources
This is the new era creativity platform crafted, which specifically provides various artists an opportunity to showcase their artforms and talent through a global platform. Various famous artists started their career by just displaying their art work online and soon receiving an overwhelming proportion of fandom. Either the posting of art work pictures through various online sources or social media, or creating an exclusive website which is designed for just your artistic showcases for the public.